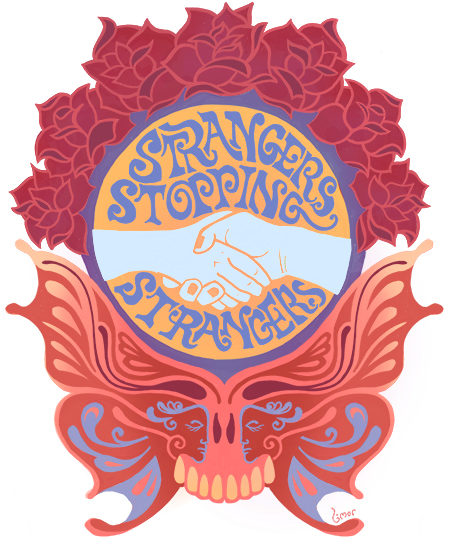 —Inspiration move us brightly…
Deadheads are a community that transcends all walks of life; where we live, what we do, and what kind of jobs we have. There is a link to one another through the music, lyrics and experiences that is special.
"Strangers Stopping Strangers… just to shake their hands" is a podcast adventure within the community to discuss the music, how it shaped us in the past and today, with connections to songs, shows, and people.
Everyone has their story that makes up their soundtrack. Looking forward to sharing experiences with friends, family, and—of course—all the former strangers I meet along the way.
Please check it out, and enjoy this journey with me…..
—Such a long long time to be gone, and a short time to be there…
Podcast #58- Conversation With Alicia Welch
This weeks podcast is with Alicia – a stranger that once met became a long lost BFF!  Alicia and I met last summer through a group she created called Girls Who Love The Dead. While a member since inception, I learned that an exchange between her and I about getting a first time tattoo- led her to thinking " I would love to have some Deadhead girlfriends" creating the group- and quickly making tons upon tons of Deadhead girlfriends- including myself!
Alicia shares stories about growing up in Maine with a family that had a close connection to music- a super cool story!  She discovered Deadheads Freshman year, but outside of a few Seniors girls, they remained elusive. A couple years and a serendipitous story later Alicia is a invited to a show in Massachusetts….but it was not in the cards.
25 years and a few stories later- Alicia gets to live out her pent of love for the Dead at a live show, when Dead and Company toured in 2015- and played in Greensboro North Carolina! This chapter begins a happily ever after of live music and as many shows as she can make. Atlanta and scheduled Florida in 2017- now rescheduled BOTH nights Florida will kick off 2018 – who knows where she will go down the golden road!
So much fun "meeting" over the phone- all eyes are on getting to meet up, get tattoos and shake our bones at a show soon!
As always- thank you for stopping by & enjoy!
Featured Music~
The Grateful Dead-Estimated Prophet, Sullivan Stadium Foxboro MA,  July 14, 1990
Dead and Company- Jack Straw, Greensboro Coliseum, Greensboro NC, November 14, 2015
Dead and Company -Terrapin Station, Lakewood Amphitheater Atlanta GA June 6, 2017
Grateful Dead- Sugaree, Oxford Plains Speedway, Oxford ME,  July 3, 1988
Podcast: Play in new window | Download (Duration: 1:38:49 — 113.1MB) | Embed