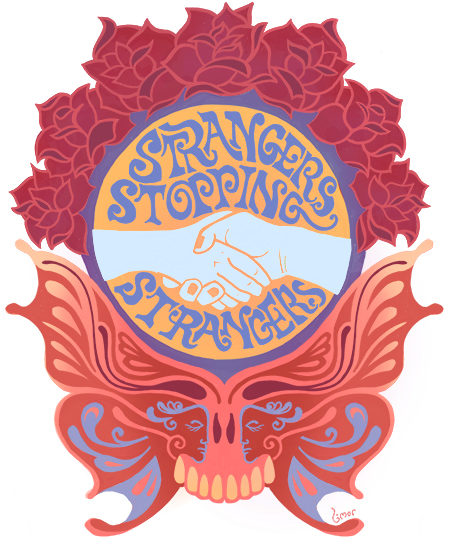 —Inspiration move us brightly…
Deadheads are a community that transcends all walks of life; where we live, what we do, and what kind of jobs we have. There is a link to one another through the music, lyrics and experiences that is special.
"Strangers Stopping Strangers… just to shake their hands" is a podcast adventure within the community to discuss the music, how it shaped us in the past and today, with connections to songs, shows, and people.
Everyone has their story that makes up their soundtrack. Looking forward to sharing experiences with friends, family, and—of course—all the former strangers I meet along the way.
Please check it out, and enjoy this journey with me…..
—Such a long long time to be gone, and a short time to be there…
Podcast #65- Conversation With Martin Bispels
On this episode of Strangers Stopping Strangers I get to talk to-and share the stories and song picks with Martin  Bispels!
Martin and  I met through Wall Street aHead- also know as WSDA.  The WASDA family is really all about networking, building relationships and ultimately many friendships. Those core values – I believe keeps any positive communities together. I reached out to Martin to ask some advice on some ideas- and that conversation out this podcast into motion.
I was thrilled have Martins ear- he has a ton of experience! Martin's company – started after 17 years working for QVC (in many different channels) specializes in sales, marketing and business development for small to mid size companies- startups- entrepreneurs and more!  Martin was so generous with his time and offered suggestions immediately. His website has more info  you can find him and more info at  www.growwithmartin.com . The networking I have been experiencing through our community- not limited to WSDA has been amazing! Most everyone I speak to is full of good will about spreading each others message- and skill sets- it is quite SPECTACULAR!
To that point the  opening segment of each podcast is getting longer- I gave it some through and I think it is because there are more people I'm connecting to – therefore there ends up being more info & stuff updates on topics like music- ticket sales- Deadhead's cottage business-and info about the Osiris Podcasts Network etc.
Last week Randy Freeman was the guest on episode #64 – we have since been in touch – which is awesome On the podcast we mention Woven Thread- the textile company he is a part of. In a conversation the guys at Woven Free thought it would be fun to offer podcast listeners 15% off their custom jackets- so beautiful- check them out! If you do and would like to purchase one at check out put in the code SSS for the discount- they are over at  www.wovenfree.com
The last shout out is to Osiris Podcast network! Strangers Stopping Strangers joined the small family of podcasts to be part of a podcast channel with other cool and like minded podcast. We launched in February, and since the family is growing with additional cool podcasts for the full list check it out at http://www.osirispod.com
As always – thank you for tuning in- and enjoy!
Featured Music~
Grateful Dead- Fire on the Mountain- Philadelphia Spectrum, Philadelphia PA March 16,1992
Grateful Dead- Sugar Magnolia Copps Coliseum, Ontario Canada, March 22, 1990
Grateful Dead- Deal- Hartford Civic Center, Hartford CT March 30, 1990
Grateful Dead- Cassidy- Daily City CA, March 3 1974
Dead and Company- Slipknot- Franklins Tower BB&T Center, Camden NJ, June 25, 2017
Podcast 65- Conversation With Martin Bispels
Podcast: Play in new window | Download (Duration: 1:50:14 — 126.1MB) | Embed